ZOEY
You know her story, now. There's just a little bit more to add. Exactly 7 days after we brought her home, the people we got her from called and said they had found more babies. So again, I went over there and brought three more home. However, after being seperated from their mother for so long, they were starved, weak, and unsociable. We nursed them for several days but they were not getting any stronger. We decided to take them to the vet. They took them in, found them all a home, and are doing well.
BONANZA McCOY (BO)
He is a Quarter horse. He's 21 years old and is a sweetheart! A dear friend of ours, found him for us. At the home where he lived, the kids had grown up and no one payed much attention to him. They fed him shucked corn, and that's it. My parents bought him for me 3 years ago. He's very sweet, gentle, and bomb proof. Although he's older, we still ride him and show him, and he's got alot of get-up-and-go!!!


PLAYBOY
He's a grey Arabian. He's 13 years old. We found an add in the local paper selling him. We called and the man begged us to take him. His previous owner had had him for his entire life and was moving away the next day and Playboy could not go with. So, because the man was so nice and Playboy was priced very low. We picked him up the next day. After we got him home, we realized that he was VERY spirited and was not fond of women. Not good for me. He bucked when you rode him, he cribbed, he even bit me a few times. My fiance,Tom, decided to take over. He loves him. Tom is very patient and loving with him. They are a perfect pair!!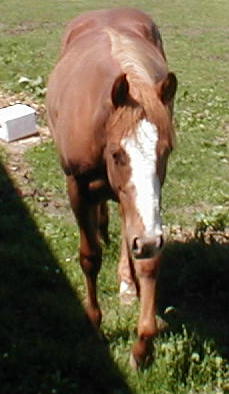 REGAL TIME DINGER (DINGER)
The same friend that found Bo for us also found us this little guy. He's a cropped paint (no spots). He's just over a year old now. We got him at about 4 months. He was very small and ribby. We took him home too. As it turned out, he had bleeding ulcers and it had stunted his growth. We had him treated and he's fine now, but he's only 12.2 HH. He's still growing. Dinger gets his daily dose of Pro Bios and he's thriving!!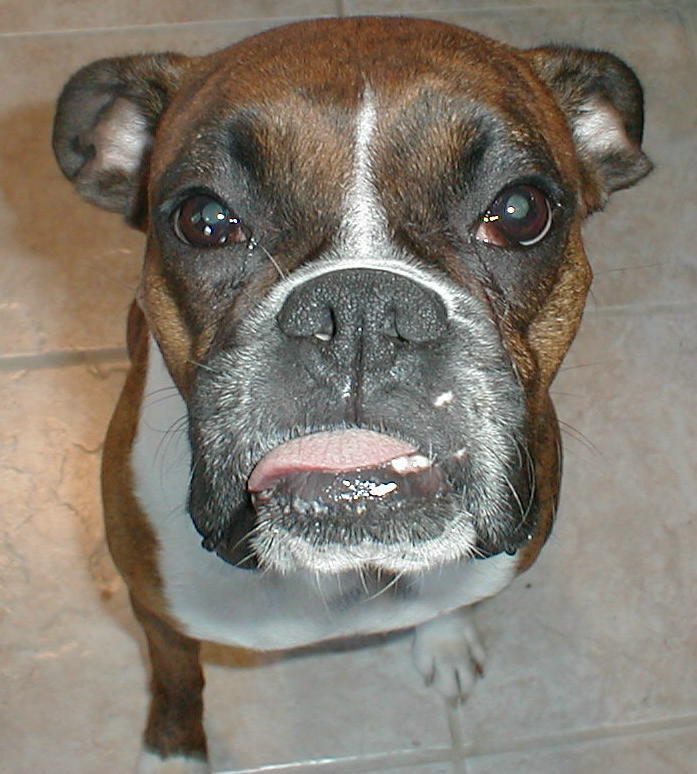 GINGER
She's a four year old Boxer. About a year ago, I took a job at a Vet's office. Someone had brought her in to have her put to sleep. She was paralyzed from the waist down. The owners said that she woke up like that. Well, I took a look at this dog and she was about 30 lbs. underweight, was missing most of her teeth, (which made he tongue stick out all the time), she had cigarette burns all over her face and ears, was missing patches of fur, and was INFESTED with fleas. I decided that with the right care, she'd be able to walk again. She was just abused and neglected. So, I took her home. She began to walk again, she put the wieght back on, she's at 50 lbs now! Her fur grew back, her wounds healed...but her tongue still stuck out. I decided that it was okay, it was kinda cute. The vet said that her broken teeth didn't hurt her. So, here she is good as can be. She still walks with a bit of a limp, though. A friend of the past owner came in and told me what really happened to the dog. I was right, she was beaten, starved, and kept in a small cage in the basement for nearly three years. She sat in her own mess. To make a long story short, she's safe now.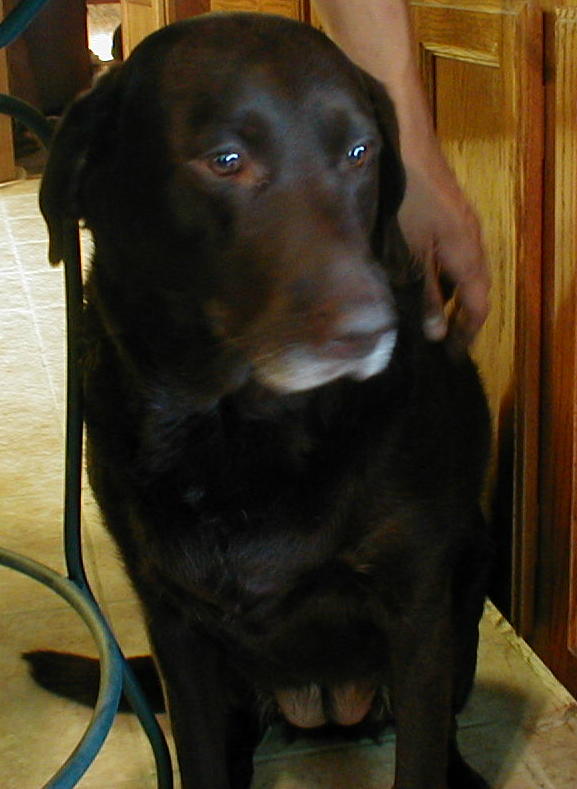 HERSHEY
A four year old chocolate Labrador Retriever. She was given to Tom as a puppy, because no one else wanted her. She was the runt. When she was five months old, her past owners took her to Arkansas to try and sell her...on the way home, a drunk driver hit the car she was riding in. Totalling their car. Luckily, Hershey was okay...the drunk however, didn't make it. Anyhow, now she's here, to stay!!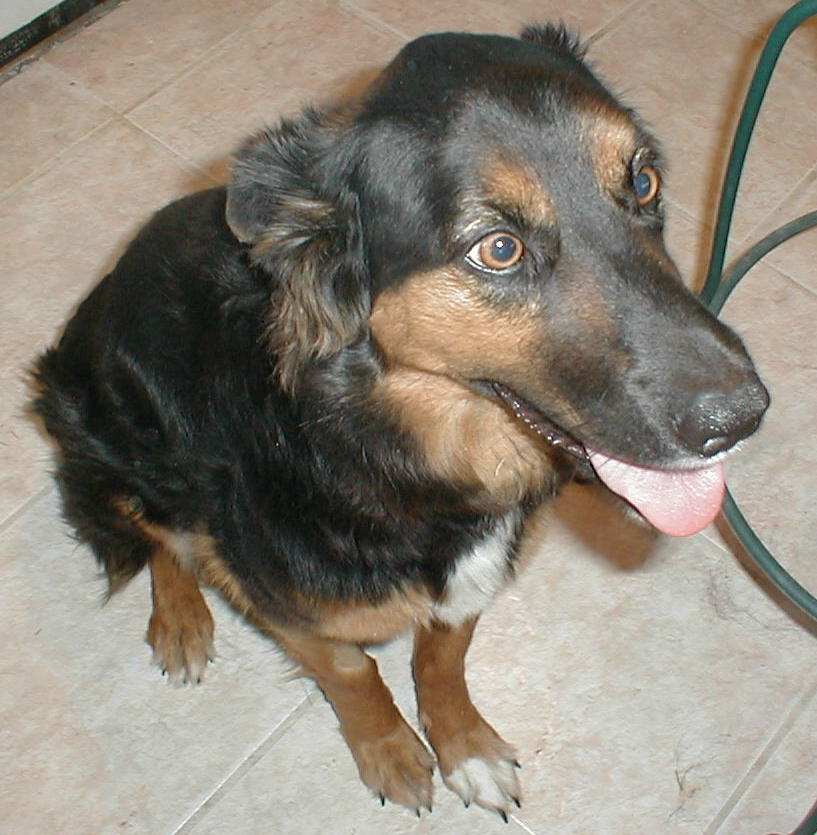 CHEWBACCA (CHEWIE)
She's part Australian Shepard, part Catahoula Leopard Dog. She's also four years old. I got her for Chrismas when she was about six weeks old. She was found in a garage with her litter mates, stinky and dirty. She recently got sick and was at the Vet's for three days. They think it was some kind of poisoning. We all prayed hard and she pulled through by a hair. She's as good as new again!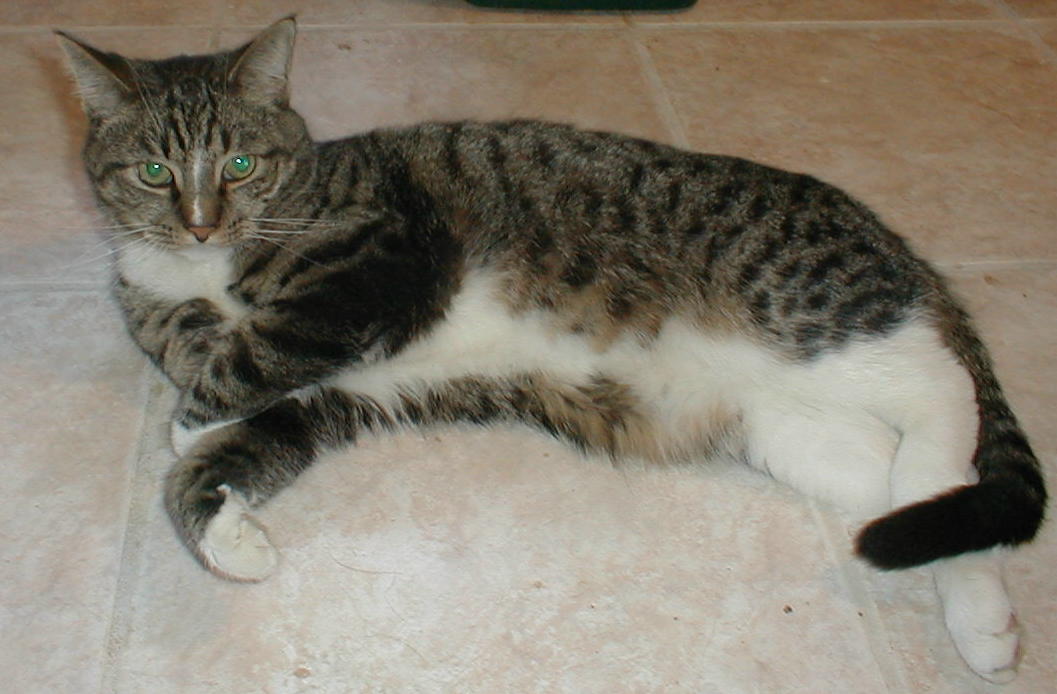 PI
A stray that was dropped off at a local Vet's as a kitten. He's about three years old. A friend of ours works at the Vet's office where he was left, she asked if we'd take him in. He's been apart of the family ever since!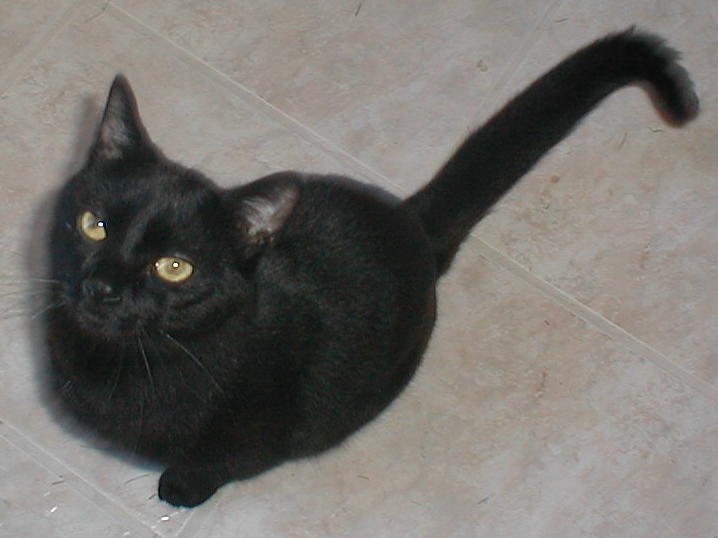 SHADOW
He's about two years old. A friend brought him to us as a kitten because he was the result of imbreeding. Our friend asked if we'd be willing to take him in, what's one more animal, right?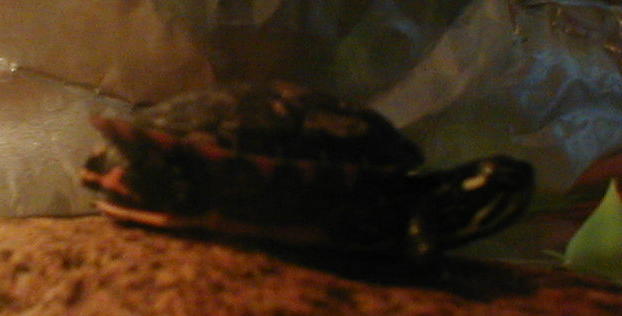 ADROCK
She is a painted turtle that was rescued from a horse trough. We've had her for a year. She now lives in an aquarium with our fish.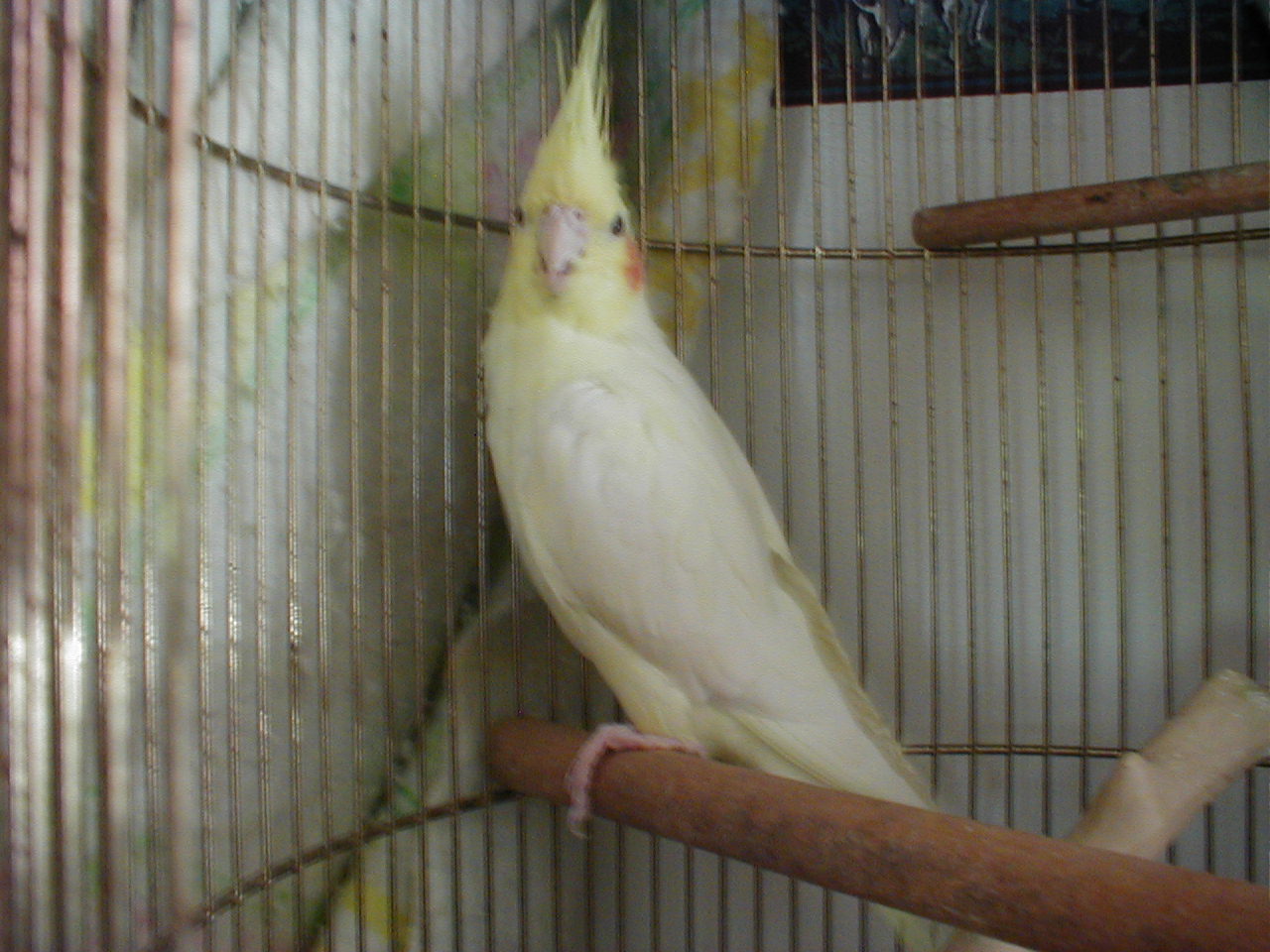 IAGO
He doesn't really have much of a story. We bought him through an add in the paper. He's four years old and very friendly.